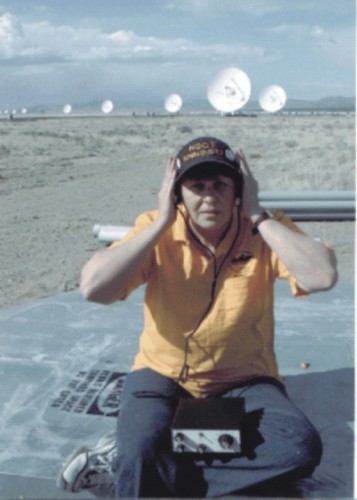 The National Radio Astronomy Observatory (NRAO)
Very Large Array (VLA) radio telescope
NRAO employee personal webpage for
Paul Harden (NA5N), IF/LO Lab, X7142
pharden at nrao.edu
Last updated 14 Feb 2008
My wife, Jan (NØQT) listening on her QRP ham rig at the
Very Large Array (VLA) radio telescope near Socorro, NM

And you thought only Jodie Foster got to do that!

• The HOMBREWER'S HOBBY PAGE •
Intended to promote an interest in electronics, engineering and science
by hams and hobbyists
---
NEW Stuff . . .
[PDF]
The
QRP-L.org Group Project rig
, by Jason Milldrum, NT7S
Test procedures and brief circuit description by NA5N (including oscope and spectrum analyzer displays)
[PDF]
The
QRP-L.org Group Project rig
Annotated schematic with test voltages and waveforms by NA5N

The

QRP-L.org Group Project

is a 20M direct-conversion 5W QRP transceiver designed by

Jason Milldrum, NT7S

. The rig is built from scratch
"Manhattan style." Discussion is on the www.qrp-l.org group; for more information see Jason's site http://www.nt7s.com/index.php5?page=qrplgp

---



Tutorials and articles:


[PDF] Tutorial Designing different types of transmitter PA output low pass filters (LPF)
[PDF] Tutorial The Handyman's Guide to MOSFET Class D/E/F amplifiers - Part 1
[PDF] Tutorial The Handyman's Guide to MOSFET Class D/E/F amplifiers - Part 2 -
- incomplete/reformatting in-progress
[PDF] Tutorial The Handyman's Guide to Oscilloscopes - Part 1 (5 pages) - updated May2004 with actual oscope displays
[PDF] Tutorial The Handyman's Guide to Oscilloscopes - Part 2 (4 pages)
[PDF] Tutorial Solar Activity & the Solar Physics behind HF Propagation (8 pages) - 2005 ARCI FDIM Compendium Presentation
Learn about: Solar Storms • Geomagnetic Storms • Solar Flux and the K- and A-Indices • When to operate •
[PDF] Tutorial The Handyman's Guide to Understanding Transistor Data Sheets
[PDF] Tutorial The Handyman's Guide to Manhattan Style Construction Techniques – Thru-hole – Part 1
[PDF] Tutorial The Handyman's Guide to Manhattan Style Construction Techniques – Surface Mount – Part 2

[PDF] Hints & Kinks on building a "3rd Hand" for holding circuit boards, cables, etc. for the workbench.
[PDF] Hints & Kinks on doing Metal Work - tapping holes and other metal work practices
[PDF] Hints & Kinks on how to paint & label electronic project enclosures
[PDF] Hints & Kinkson building electronic circuits Manhattan Style (a proven QRP copper clad technique)

Construction Projects:
[PDF] Schematic – DESERT RATT (original 1996-1997 circuit as published on QRP-L, QRPp, etc.)
[PDF] JPEG Schematic - DESERT RATT 2 (Updated 2001 for varicap tuning, construction hints and voltage/waveforms)
PHOTOS of those building the DESERT RATT: Ricardo/Mexico
[PDF] Circuit Description – DESERT RATT 2
[PDF] 4/P CONVERTER: 74–500 MHz to 1.1–1.5 GHz Upconverter built Manhattan style
[PDF] The 74MHz/P-Band TEST SET - front panel & top view
[PDF] 74 MHz Oscillator (part of Test Set) – built Manhattan style [Schematic JPG]
[PDF] Noise Source & 1024 MHz LO (part of Test Set) – built Manhattan style [Schematic]
[PDF] 300–400 MHz Sweep Oscillator (part of Test Set) – built Manhattan style
Sweep Generator [Schematic JPG] — Schematic, VCO, Attenuators, etc. [Schematic JPG]



Some of the history articles I write for the local newspaper most requested are placed here. All files .pdf including the original photographs from the article.

WESTERN UNION AND THE RAILROAD TELEGRAPHERS - The history of Western Union, the railroad telegraphers and early wireless

EL CAMINO REAL TRAIL - PART I - The early history of El Camino Real, from the 1598 Onate Expedition to the 1680 Pueblo Revolt

EL CAMINO REAL TRAIL - PART II - The history of El Camino Real from 1692 de Vargas reoccupation to the arrival of the railroad